KTIMA LOUIZA
Louiza Estate is an agrotourism complex of 200 acres located in Kyllini, Peloponnese. Set up in an enchanting natural scenery, minutes from the sandy beach of the Ionian Sea, it spreads over four hills, surrounded by a woodland of arbutus, pine, willow, oak and all kinds of bushes of Mediterranean flora.
Louiza Estate is not simply an organic product property but an alternative lifestyle site, deeply committed to natural and organic production. It is home to pure, natural products such as oil and olives, vegetables, herbs, fruits, Zea wheat, and all their derivatives.
Our olive grove
In our 55 acre, organic certified olive grove, 1200 trees of Koroneiki variety yield each year a limited production extra virgin olive oil of unique quality.
Cultivation is done the local, traditional way. Natural farming is enhanced by latest methods to ensure a best-of-both-worlds result. No additives or drugs whatsoever are employed. Our fertilizer is none other than manure from the farm horse. For fertilization during winter, the olive grove is planted with vetch. Green olives are hand-harvested in mid-October when they just begin to acquire their natural purple tint. Extraction takes place at an organic certified press at 27o C.
The result of the whole process is a premium, award winning organic olive oil, with numerous distinctions in the most prestigious international competitions, and nothing less than exquisite taste.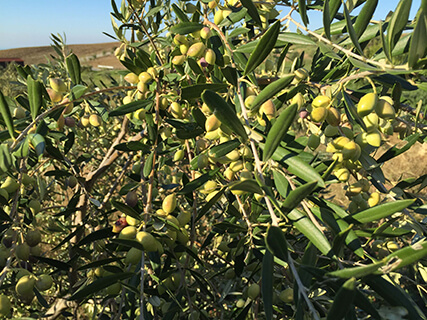 Our vision
Our vision is to spread the full goodness of Greek natural farming and traditional Mediterranean diet to seekers of the original and exquisite all over the world. To achieve that, on one hand we follow the local, completely natural tradition of farming served by our forefathers, and many generations before them. On the other, we employ state-of-the-art procedures of extreme accuracy and strictness to make sure that the immaculate result of traditional natural farming can be achieved at any time, over and over again, with stable quality and richness of organoleptic features.
Organic farming in our estate is not just a trend. It's part of a historical continuum of centuries that we couldn't ever allow to interrupt. Enhanced by modern techniques, tradition serves as the ideal path to a future of highest quality natural food products.
Handmade, pure and natural, Ktima Louiza products are created with love, care and the utmost respect for the environment. We continuously expand our line-up with new offerings, to bring the best of Greek nature at your table.